Welcome to the Vienna Woods
The Restaurant Höldrichsmühle welcomes you in Hinterbrühl south of Vienna, near Mödling. Younger and older guests as well as families with children feel at home in the popular excursion restaurant, where Franz Schubert used to like to linger.
The restaurant team will spoil you with excellent regional and seasonal dishes from our current menu.
Enjoy our historical ambience. When the weather is nice, the garden terrace invites you to linger. During your visit to the restaurant, visit our Schubert site under the lime tree or take a look at our photo collection. The beautiful surroundings invite you to go for walks, hikes or bike rides. Children enjoy a visit to the hotel's own riding facility.
We also organize your family celebration, wedding or company celebration in one of our atmospheric rooms.
We look forward to your visit!
The Moser Family and Team of the Höldrichsmühle
Enjoy Viennese and international dishes in the cozy vaulted restaurant. When the weather is nice, the garden terrace invites you to linger. In the afternoon, you can enjoy hot meals or our homemade desserts with your coffee. Reserve your table or your own room now. Contact us. We are happy to advise you!
Classic and seasonal dishes
Whether it's the classic Wiener Schnitzel with parsley potatoes, Viennese cuisine, seasonally prepared fish, poultry or meatless dishes, you can always eat and drink well in our restaurant in Hinterbrühl near Mödling.
OPENING HOURS:
Hotel open all day.
Restaurant daily warm meals from 11 a.m. to 10 p.m. (Sunday until 5 p.m.).
Festivals and Celebrations
Celebrate your private party and company celebration in the Höldrichsmühle restaurant only 17 km south of Vienna. We are happy to help. Enjoy traditional and seasonal cuisine in an atmospheric ambience with friendly service. Barrier-free access, also to the garden terrace. Children like to pay a visit to the playground or riding stables. For family dinners or company celebrations in a relaxed atmosphere where everyone feels comfortable.
RESERVE YOUR TABLE
---
Reserve a table at the Hotel Restaurant Höldrichsmühle? It's easy here, reserve ONLINE. We are looking forward to your visit!
Schubert Cake
---
TO TAKE AWAY, POST, OR ENJOY ON-SITE
Our cake, homemade according to an old family recipe, is a fine poppy seed and nut cake covered with chocolate. Enjoy the cake on the spot or give it as a gift – as a souvenir in a decorative wooden case.
We are happy to send the cake to addresses in Austria and Europe with your greetings.
A
wine tasting
comes rarely
alone.
Combine a visit to the restaurant with a short break in beautiful Hinterbrühl, e.g. with our romantic package including a candlelight dinner with accompanying wine and use of the feel-good relaxation zone.
The Höldrichsmühle is proud of its centuries-long history as a mill and inn. Franz Schubert and Ferdinand Georg Waldmüller were inspired in the Höldrichsmühle in Hinterbrühl. Culture lovers from all over the world visit the Höldrichsmühle memorial site in honor of Franz Schubert and Ferdinand G. Waldmüller.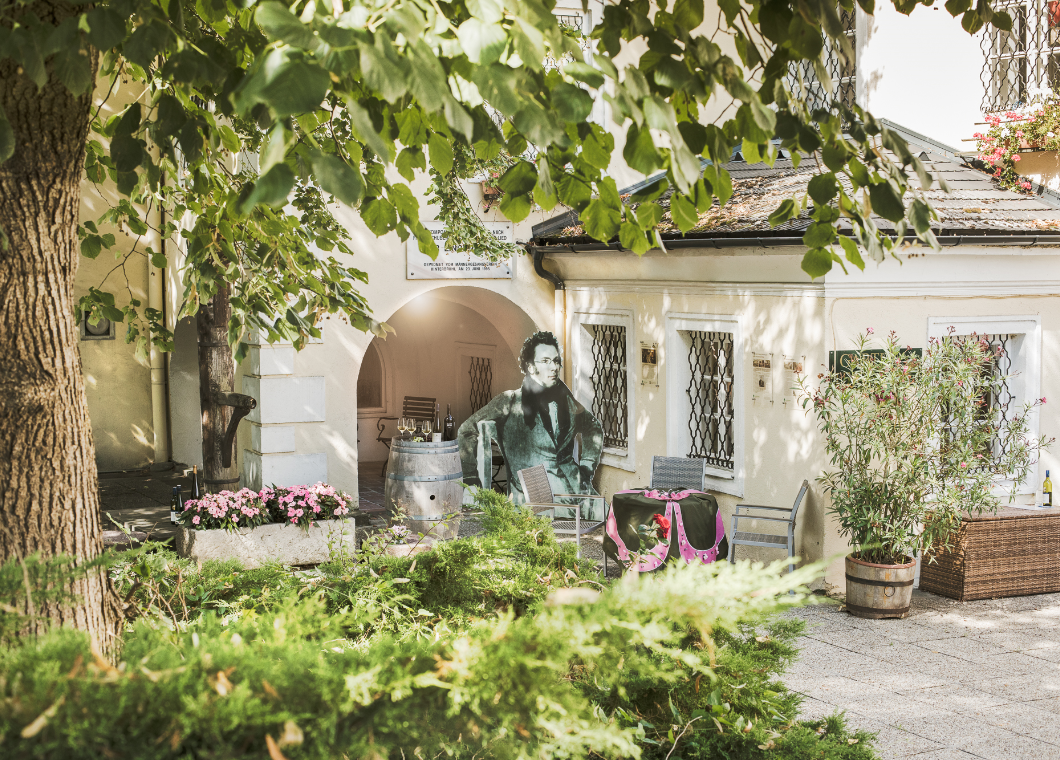 Discover the Vienna Woods
---
RELAXATION FOR CONNOISSEURS
Overnight in double room with buffet breakfast
1 x Schubert candlelight dinner (4 courses) with wine pairing
Combined ticket for the Sparbach/Burg Nature Park Liechtenstein*
Relaxing area with sauna, fitness & salt grotto
Fruit plate & bathrobe in the room
Free W-LAN and hotel parking
From € 114 p.p. in double room